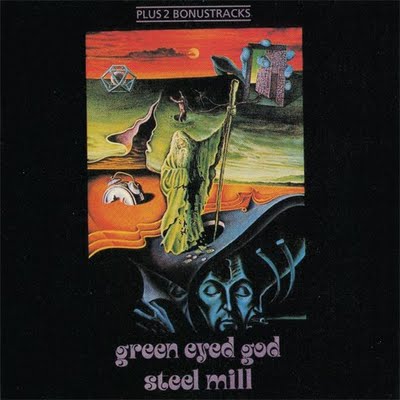 Esta es otra de las bandas más misteriosas de Inglaterra. Incluso en el libreto del CD que tengo, el autor reconoce que aunque intentó dar con el paradero de los músicos, no lo logró, todo fueron callejones sin salida y sin ninguna conclusión clara.
La banda lanzó dos singles en 1971 y después el disco del que hablamos, 'Green Eyed God'. El disco se lanzó primero en Alemania en el 72 y empezaron a ser conocidos en su Inglaterra natal unos años después, hacia el 75, cuando ya se habían disuelto.
Está claro, aunque no siempre tiene porque ser así, que de ser una joya de primera fila no habría pasado tan desapercibida. La música de la banda no aporta nada realmente nuevo, su música es algo así como unos Jethro Tull de la primera época, con trazos de unos Black Sabbath melódicos. En resumen, hard rock y rock blues aderezado con flautas y saxos.
Es un disco interesante, con temas buenos y otros no tanto. Su mayor aliciente es conocer un poco la evolución de este tipo de música y estas bandas que son auténticas rarezas, aunque no tanto ya, porque su música no ha envejecido bien y suenan un poco anticuadas, pero en su momento eran realmente originales.
La producción del álbum es muy buena y se escucha a la perfección, pero ese año salieron discos muy especiales y es evidente el porque Steel Mill pasó sin pena ni gloria en la historia de la música. Discos de la categoría de Thick as a brick, Machine Head, Vol. 4 de Black Sabbath, Close to the Edge, Foxtrot, etc., se editaron en 1972.
Steel Mill - Green Eyed God (1972)

Steel Mill - Mijo and the Laying of the Witch (1972)
Steel Mill - Green Eyed God (1972)
álbum de estudio editado en 1972
Temas
1. Blood Runs Deep (5:19)
2. Summers Child (4:24)
3. Majo and the Laying of the Witch (7:52)
4. Treadmil (4:00)
5. Green Eyed God (9:51)
6. Turn the Page Over (3:56)
7. Black Jewel of the Forest (6:13)
8. Har Fleur (0:45)
Duración: 42:20
Steel Mill
- John Challenger / flauta y saxo
- Chris Martin / batería
- Dave Morris / teclados, voz
- Jeff Watts / bajo
- Terry Williams / guitarra